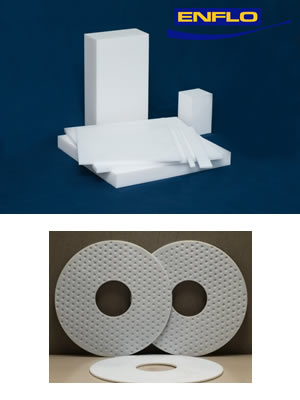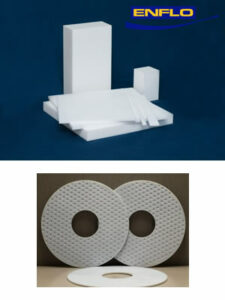 Enflo's Molded PTFE sheets provide a low-friction, non-stick surface suitable for use in high-temperature and high-dielectric applications. This item is available in cut-to-size sheets and can be supplied etched one-side, etched two-side, or with a self-adhesive acrylic backing (pressure sensitive tape).
Molded sheets are available in thicknesses ranging from 0.187″ inches to 6″. Standard sizes can be produced in the following dimensions:
24″ x 24″
24″ x 48″
30″ x 30″
36″ x 36″
36″ x 48″
40″ x 40″
40″ x 42″
48″ x 48″
Custom sizes can be manufactured in virgin and filled type resins. Dimpling can also be provided which is used in bridge bearing applications. Molded sheets with pressure sensitive backing can be custom made. Typical applications range from "hot zone" bakery equipment, gaskets, seals, pipe lining, bearings, machined components and numerous other products. Enflo's dimpled sheets for bridge bearing pads are a key component to new and replacement projects and are primarily used by bridge builders to provide additional wear resistance.
Materials/Resins Available
Enflo Molded PTFE Sheets can be manufactured using:
Virgin PTFE – excellent thermal, chemical, and electrical resistant properties.
Super Modified PTFE – virgin PTFE modified to exhibit superior physical properties.
ENFLON® (Filled PTFE) – PTFE blended with specific additives to suit specific applications.
Custom sizes available. Contact our sales team today!







Enflo products are USP Class VI, FDA, ROHS, REACH, and Conflict Materials compliant.
ISO 9001:2015 Certified QMS
ENFLON® is a registered trademark for Enflo's filled PTFE compositions.
TEFLON® is a registered trademark of Dupont.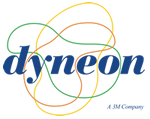 A 3M Company
Dyneon™ TFM™ PTFE
Dyneon and TFM are Trademarks of 3M.