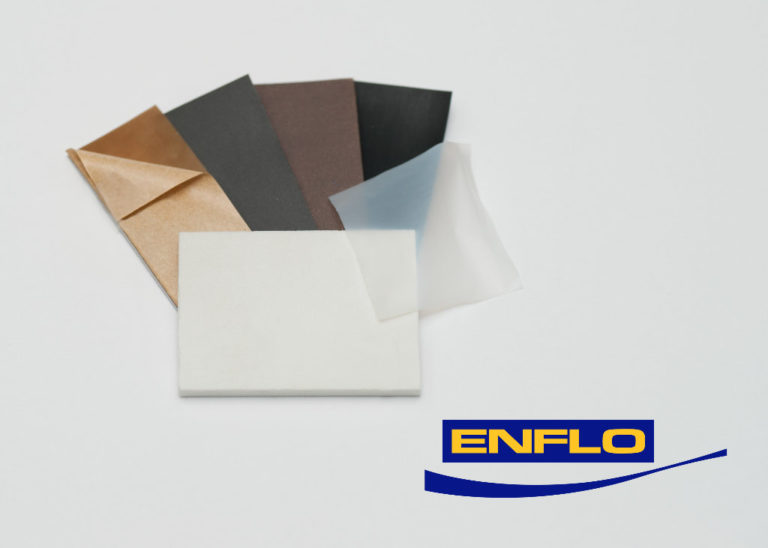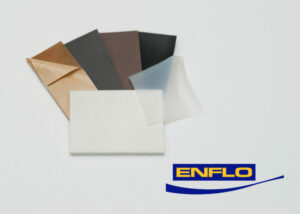 Enflo's PTFE Film and PTFE Sheets provide a low-friction, non-stick surface suitable for use in high-temperature and high-dielectric applications. PTFE Film and PTFE Sheets are available in roll form or cut to size sheets and can be supplied etched one-side, etched two-side or with a self-adhesive acrylic backing (pressure-sensitive tape).
Applications include capacitor films, cable harnesses, spacers, electrical insulation components, PCB's, flexible circuits, cap liners, plungers, stoppers, protective liners, gaskets, diaphragms, semiconductor processing components, expansion joint liners and sleeves, fuel cell seals and separators, solar panel (photovoltaic) modules and surface protection liners.
Enflo is specified as the supplier of PTFE Skived Sheets under Boeing specification BMS8-121 as well as Bombardier specification BAMS533-001.
Materials/Resins Available
Enflo's PTFE Film and PTFE Sheets can be manufactured with the following types of resins:
Virgin PTFE – excellent thermal, chemical, and electrical resistant properties.
Super Modified PTFE – virgin PTFE modified to exhibit superior physical properties.
Reprocessed PTFE – recycled PTFE with the same great properties as virgin PTFE.
ENFLON® (Filled PTFE) – PTFE blended with specific additives to suit specific applications.
Enflo's PTFE Films and PTFE Sheets are available in these sizes:
Manufactured in roll form or "cut to size" film and sheet in widths up to 72″ and thickness from .0005" to .250".
Enflo specializes in providing custom products in custom blended resins, colors and custom sizes.
Contact our sales team today!







Enflo products are USP Class VI, FDA, ROHS, REACH, and Conflict Materials compliant.
ISO 9001:2015 Certified QMS
ENFLON® is a registered trademark for Enflo's filled PTFE compositions.
TEFLON® is a registered trademark of Dupont.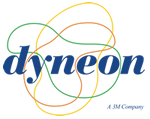 A 3M Company
Dyneon™ TFM™ PTFE
Dyneon and TFM are Trademarks of 3M.