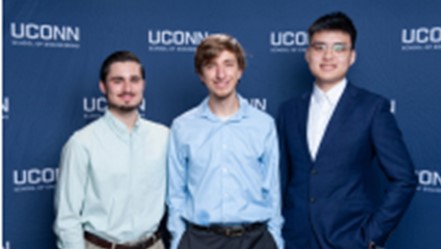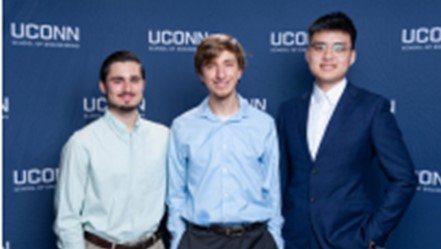 June 13, 2022 Bristol, CT
Enflo LLC, one of the largest, privately owned manufacturers of Polytetrafluoroethylene (PTFE) in North America, recently sponsored a University of Connecticut (UCONN) Management and Engineering for Manufacturing (MEM) project that focused on automating a key product line.
The project concentrated on the development, planning and design of an automated molding cell that would meet product cost targets and significantly increase output. The project involved developing a concept that incorporated business planning targets through to actual completion of a working cell that safely maximizes output per man hour of this particular product family.
The UCONN team (pictured above) documented key variables and controls needed to achieve product quality. They also created a design using SOLIDWORKS that ensured that the amount of operator interaction was minimized, allowing them to complete other tasks while the manufacturing process is being performed. The team produced drawings for the automated molding system and created a budget for the equipment bill of materials. Additionally, they generated operating instructions for the automated equipment. Finally, a working prototype of the automated molding equipment was fabricated and tested to prove out the concept.
Enflo LLC, was founded in 1954 and is a PTFE specialized solution provider with proven expertise in manufacturing Virgin, Reprocessed and Filled (Enflon®) PTFE basic shapes. Enflo manufactures PTFE molded sheets, skived sheets, tape, extruded rod and tubing, molded cylinders and rod in standard and custom sizes using PTFE resins and fill materials to fit specific customers' needs.
Enflo serves a wide range of industries such as semiconductor/PCB, construction and bridges, food and beverage, oil and gas, electronics, electrical, aerospace and defense, chemical, energy, and industrial, where high quality products built by proven manufacturing operations are critical for success.